Wonderfully fine sand and sea water for an invigorating bathe
The great beach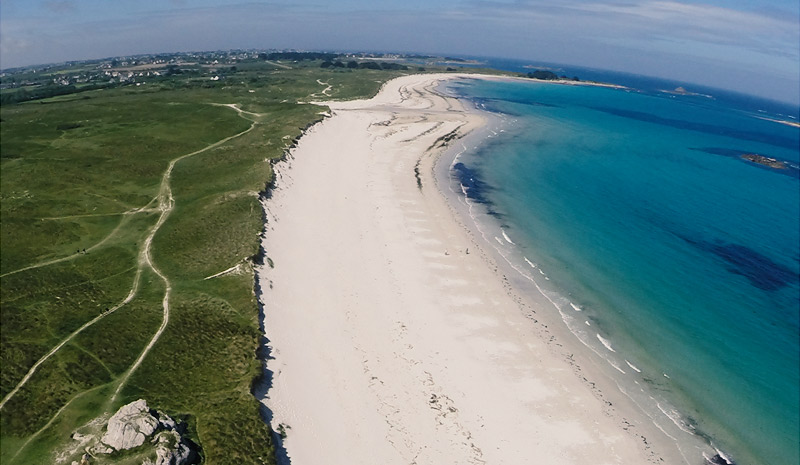 White sand, extending from the Erleac'h car park to Lampaul-Ploudamezeau!. A true paradise for hikers, joggers and beach sailing enthusiasts, but also for birds.
Erleac'h beach
Accessible from the Aber Benoît campsite, but also from Rue d'Erleac'h (car park, viewing platform accessible for people with restricted mobility and dry toilets for visitors) 
Other beaches:
Korn ar Gazel beach near the campsite and the long sand bar are a haven for mud flat fishing and tidal flat explorers at low tide.
Benniget and Ganaoc'h beaches, small bays with fine sand at the edge of the Aber, are sheltered from the wind.
Dunes and seashore
A wonderful landscape that is well worth discovering from the GR 34, running along the seashore or the viewing platform at Erleac'h.
The dunes, which are protected thanks to Natura 2000 classification, are home to numerous types of flora (catkins, blue thistles, etc.)
Storms have wreaked havoc on the coastal region, and so it is vital that we all look after the dunes by using the marked pathways (wooden fences, coastal trail route).
The sand bars are accessible to all, offering an unrestricted view of the islands of Trevorc'h and the Aber Benoît estuary.
In the foreground, at the bottom and to the right, are the famous wooden fences. These may seem almost laughable as protection, but over time they help the dune landscape to rebuild itself between storms.